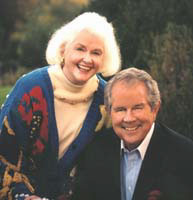 Family
Pat Shares His Early History
My folks built their home in what had been an apple orchard. Early memories of gorgeous views of nearby mountains and the fragrance of apple blossoms in the Spring, and a profusion of apples in the Fall. Lexington, a lovely town with distinguished past -- our heroes were Confederate generals Robert E. Lee, who had been President of Washington College, later named Washington & Lee, and Stonewall Jackson, who had been an instructor at Virginia Military Institute prior to the Civil War. I was born in a hospital made from Jackson's home. We lived one block from Jackson Avenue. My folks are buried in the Jackson Memorial Cemetery.
Rooted in Public Service

My father entered public life before I was born, serving as Commonwealth Attorney for Rockbridge County, then as a state senator, then Commissioner of Game and Inland Fisheries for the State of Virginia. He was an avid athlete -- played college football, held the state hammer throw record, was a top tennis player, and later an ardent hunter and fisherman. He was named "Sportsman of the Year" by Field & Stream Magazine. All my life our family had a profusion of wonderful hunting dogs, which, in part, accounts for my love of animals.
When I was two, my father was elected to the United States House of Representatives where he served for 14 years. In the House, he was a member of the powerful Ways and Means Committee where he was a principle author of the "pay as you go" taxation plan which still yields a harvest of payroll deductions for the Federal government each month.
In 1946 he was elected to fill the U.S. Senate seat of the aging Carter Glass, and there he served for 20 years, becoming one of the handful of senior conservative southern Democrats who controlled much of the business of the United States Senate.


A Father's Heritage
From my father I learned an incredible work ethic, frugality, integrity and the true meaning of what it means to be a public servant. My father lived humbly and frugally. He never forgot that he was a servant of the people and that his private and public life must be above reproach.
Both my mother and my father instilled in me the responsibility that we had to our family tradition. Mother, whose name was Gladys Churchill Willis, and was a distant cousin of my father, Willis Robertson, told us of our British ancestor, John Churchill, the 1st Duke of Marlborough (ancestor of Winston Churchill) and our collateral ancestors, the Harrisons, who produced a signer of the Declaration of Independence and two United States presidents. I learned of the Willis family which had founded Fredericksburg, Virginia, and particularly of my father's grandfather, the famed "King Ab" Willis of Orange County, Virginia. I learned of my direct ancestor John Woodson, who had joined the Jamestown Colony in 1619.
The Blood of Saints

Only later did I learn that both of my grandfathers were Baptist clergymen; that James Robertson, my first Robertson ancestor, who came to Virginia in 1695, was an Anglican clergyman; that my Virginian Churchill and Gordon ancestors were clergymen. Although I may have had flowing in me the blood of statesmen, noblemen, and warriors, I had even stronger in me the blood of priests and men and women of God.
At the end of my second year in law school, I married a lovely young lady from Columbus, Ohio, Dede Elmer. Dede was a graduate from Ohio State University and was studying for a masters degree in nursing at Yale. Dede had been a fashion model and beauty queen, and was a runner-up to Jean Peters in the Miss Ohio State Contest. We joked that Jean Peters got Howard Hughes and Dede got me. Dede and I started a family that soon grew to two boys, Tim and Gordon, and two girls, Elizabeth and Ann. From that beginning came a very closely-knit family with 14 intelligent and attractive grandchildren.